Easy Crochet Knot Pillow Tutorial. You only need to know 1 crochet stitch. A perfect beginner-friendly crochet pattern.
Who else loves the look of Scandinavian design? The muted color tones, whimsical & cozy vibes. It's just what Everly's room needed. So I turned to Pinterest for some inspiration. The one thing that stood out, soft & squishy knot pillows. I can already hear the giggle of our next pillow fight.
The only problem with all of those knot pillow tutorials, I don't sew, at all. So I decided to do what I do best, drink another cup of coffee and keep scrolling. kidding! I grabbed my favorite crochet hook (free pattern using the same hook) & made the simplest crochet pattern EVER. I'm not sure I can even call this a pattern, it's that simple. One stitch is all you need to know! If you like simple patterns try these easy crochet coasters for beginners.
Knot Pillow Tutorial
Materials:
Step 1.
Holding 2 strands of yarn together, chain 38. Repeat this again so you have 2 chains. Your chains should be about 56″ long.
Step 2.
Holding both chains together, tie your knot following the graphic below. You will stop at step # 8. As you are first laying this out & start to tie the knot it will feel like your chains aren't long enough. Stick with it. If you make your pieces longer you will have long tails left at the end of your pillow.Trust me, I tried it too! On step #6 on the graphic, you will have to pull that end tight to get it through the loops.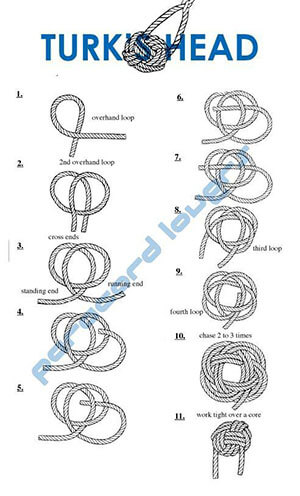 Step 3:
Take your yarn ends and sew together on the back of the pillow. Weave in any extra yarn ends.
Now you have a new knot pillow perfect for your next pillow fight.  I'd love it if you would pin this to share with the other coffee drinking, Pinterest scrolling, makers out there!
Stay Cozy,