A video tutorial full of tips to help you learn the crochet puff stitch. Plus, what's the difference between the bobble, popcorn, and puff stitch? You can find more crochet tips and tricks in the Crochet Stitch Guide.
CONFESSION: 6 years, and I've never used the crochet puff stitch. The polka-dot design has never interested me. Until I was catching up on Fixer Upper episodes. This pillow, in one of the reveals, needed to be in my house. The diamond puff stitch pattern was the perfect texture.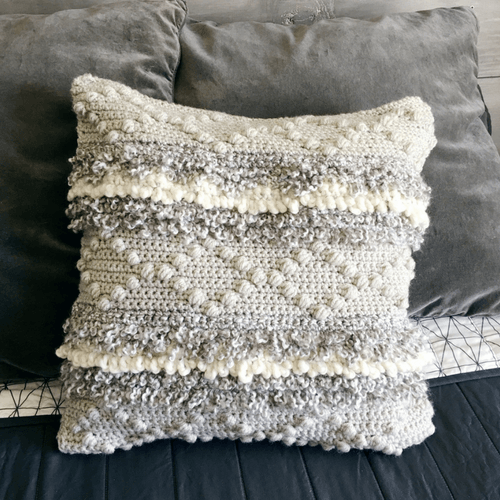 I dropped my current project and started sketching a new crochet design. Do I use a popcorn, bobble, or puff stitch? Or maybe it's a cluster stitch? Turns out there's a lot of gray area between these stitches.
What's The Difference
Crochet Bobble Stitch: Is simply double crochet 5 together, but all in one stitch. The bobble design shows up on the wrong side of your work. Video tutorial here.
Crochet Popcorn Stitch: Is a series of 5 completed double crochets in one stitch. You slip stitch together the 1st and last stitch to complete the cluster stitch. The popcorn stitch will show on the right side, the side facing towards you. Video tutorial here.
Crochet Puff Stitch: Is a series of loops worked together in 1 stitch. The puff stitch also shows up on the wrong side of your work. The crochet video tutorial is below.
When in doubt check your pattern.
These crochet stitches are used interchangeably. Always double check the special stitches section of your pattern. Even if the designer and you are on the same page about the stitch, the number of double crochets and loops can change. When using a super bulky weight yarn I use fewer loops in my puff stitch. The thicker yarn makes the "bump" design more prominent.
The inspiration pillow had a rich, playful texture. The crochet loop stitch was the perfect compliment to the puff stitch diamond design. I chose to use the crochet puff stitch in my textured pillow pattern for a couple reasons.
The popcorn stitch takes time. You remove the hook and insert it back into the first stitch of the cluster, too tedious for me.
I like the smooth design of the puff stitch. The bobble stitch has the extra texture of the double crochets being bunched together.
Quick and simple. I could finish my episodes of Fixer Upper while crocheting.
How To Crochet The Puff Stitch
[Yarn Over, insert hook into st, Yarn Over, pull through stitch] work sequence 4 times into the same stitch.
You will have 9 loops on the hook.
YO, pull through all 9 loops on the hook.
1 Tip That Will Make The Crochet Puff Stitch Easier
 Each time you pull through the stitch, loosen the loop. This will make the last step of pulling through all 9 loops on the hook easier. Watch the video if you need more help.
I officially checked the puff stitch off my bucket list. I'm off to watch a few more episodes of Fixer Upper, solely for inspiration purposes 😉