Learn how to crochet the loop stitch and quickly add a fringe to crochet without tying each piece of yarn. Find more crochet videos in the Crochet Stitch Guide.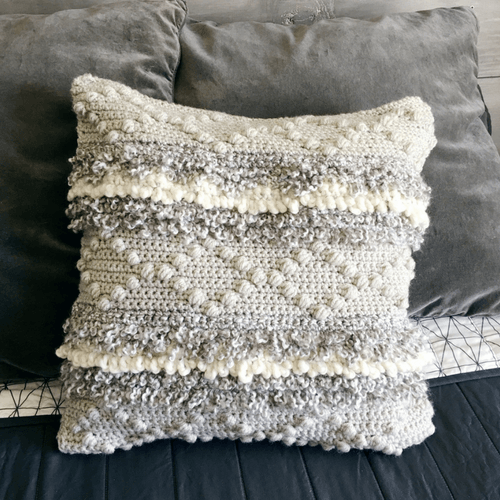 The loop stitch adds a cozy texture to any project.  A quick scroll through my favorite home decor sites, Anthropologie and West Elm, proves that fringe is the go-to trend right now. Pillows, blankets, and even floor poufs have rows of fringe and playful tassels.
Stop Wasting Time And Start Using The Loop Stitch
I hate sewing in ends. Once I've worked the last stitch I consider the project done. I throw it in my work in progress(WIP) basket for a week before I go back and do the finishing details.
The feelings mutual about adding a fringe. To save time, decide where you want the fringe on your project. When you get to that spot crochet a few rows or rounds of loop stitches.
You can leave the loops like I did in the Textured Oak Pillow Pattern, or you can cut the loops to mimic the fringe look. When your project is done you won't have to go back and tie each individual piece of yarn.
More Than Fringe
I wish I had known about the loop stitch when I made the Boho Crochet Wall Hanging Tutorial. Add a few rows of loops while crocheting the base of the wall hanging to save you time with the pops of texture.
The loop stitch is also known as the fur stitch. You can use this easy crochet stitch for hair on dolls or stuffed animals. The loops are actually on the wrong side of your work. You will have to adjust your pattern accordingly to make sure the "hair" is on the outside of your work.
I learned the loop stitch in the book The Crochet Dictionary. This book has taught me so many new stitches. It includes great pictures, written descriptions as well as graphs.
Sometimes you need a video tutorial to help you learn a new stitch. The loop stitch video tutorial is down below. Here are a few helpful tips, along with written instructions, if you are a skim now, pin for later kinda girl like me.
Tips To Master The Loop Stitch
Use the recommended or smaller, hook size for your yarn. When you use a bigger hook the loops will pull back through the spaces in between the stitches.
To keep all your loops on one side of your work alternate rows of loop stitches and single crochets. The loop stitch can also be worked in continuous rounds, no need for single crochets in between.
You can adjust your loop size by adjusting your tension. I like the look of a tighter loop. I used my index finger as a guide. You can also wrap the loop around a pencil or a larger knitting needle. It takes time to get the loops all the same size. After a few rows, you'll get the hang of it.
You can cut the loops to create a fringe after you have finished the row.
You can use any weight of yarn with this stitch. I prefer to use bulky or super bulky weight yarn. It gives the loop a thick and plush look.
How To Work The Crochet Loop Stitch
Wrap the yarn around your index finger of your hand that holds your working yarn. I'm right handed, so I use my left hand. This is also how I hold my working yarn, to begin with. If that's your case no extra step is required.
Insert your hook into the next stitch. Yarn over.
Push your hook across to grab the other side of the working yarn. It will be on the left behind your index finger.
Pull both of these loops through the stitch. You will have 3 loops on the hook.
Remove your index finger from the loop.
Yarn over and pull through all 3 loops on the hook.
Now you know how to quickly add a fringe to crochet. With this extra time, I'll sew in my ends of every project 😉 Not likely. If you have a tip to save time on that I'm all ears.