It's time to deck the halls! Adding a few handmade details is always a fun way to get into the Christmas spirit.
Last year I made these simple crochet Christmas ornaments. I loved the cozy feeling they added to my tree. I'm sharing the free crochet pattern with you today.
This crochet pattern is so easy and works up quick! My kinda project.
The crochet Christmas ornaments would be so cute added to a gift. The styrofoam balls come in lots of sizes. If you choose a different size you can easily adapt the pattern to fit.
The DIY ornament is crocheted in the round starting at the top. Basic increases are made, just like a hat. To adapt the pattern, keep increasing until your piece covers half of the styrofoam ball. Then start the decreases.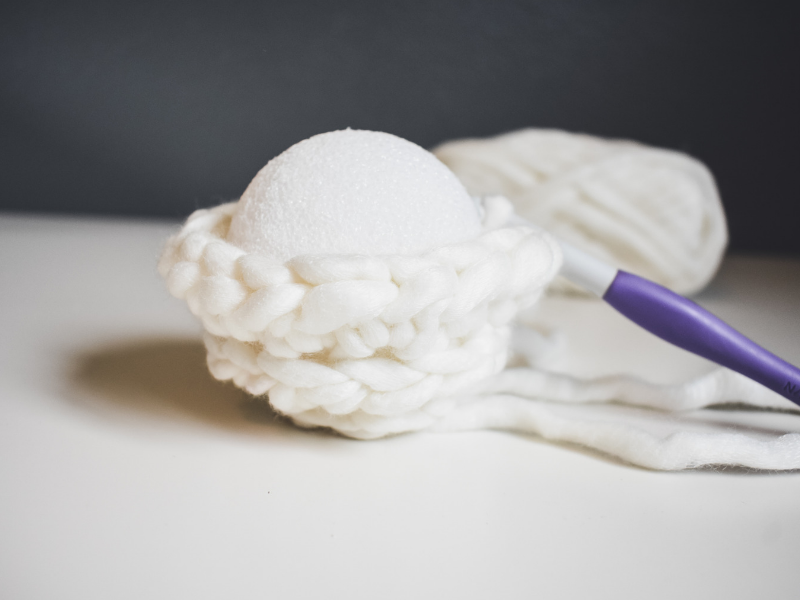 Click here to get the free PDF Christmas Ornament Pattern sent straight to your inbox.
What You Need
What You Need To Know
The chain 1 at the beginning of each round does NOT count as a stitch. At the end of each round, slip stitch to join to the beginning chain.
FLO: Crochet the entire round in the front loops only.
FLO hdc2tog= YO, insert hook into the front loop, YO pull through st, YO insert hook into front loop of the next st, YO pull through st, YO pull through all 5 loops on the hook.
Abbreviations (Standard US Terms)
ch(s)=chain(s)
st(s)= stitch(es)
hdc= half double crochet
hdc2tog=half double crochet 2 stitches together
FLO=front loop only
Crochet Christmas Ornament Pattern
Leave a 14"-16" tail. This will be the loop to hang on the tree.
Ch 2
Round 1: work 6 hdc in the 2nd ch from the hook, join. (6sts)
Round 2: ch 1, FLO 2hdc in each st around, join. (12sts)
Round 3: ch 1, FLO (2hdc in next st, 1 hdc in next st) repeat around, join. (18sts)
Round 4: ch 1, FLO (hdc2tog, 1 hdc) repeat around, join. (12sts)
Insert the styrofoam ball and continue with round 5.
Round 5: ch 1, hdc2tog around, join. (6sts)
Sewing It All Together
1. Cut the yarn leaving a tail. Sew the bottom of the ornament closed. Sew in the end.
2. Take the end of the beginning tail and thread it through a loop on the top of the ornament.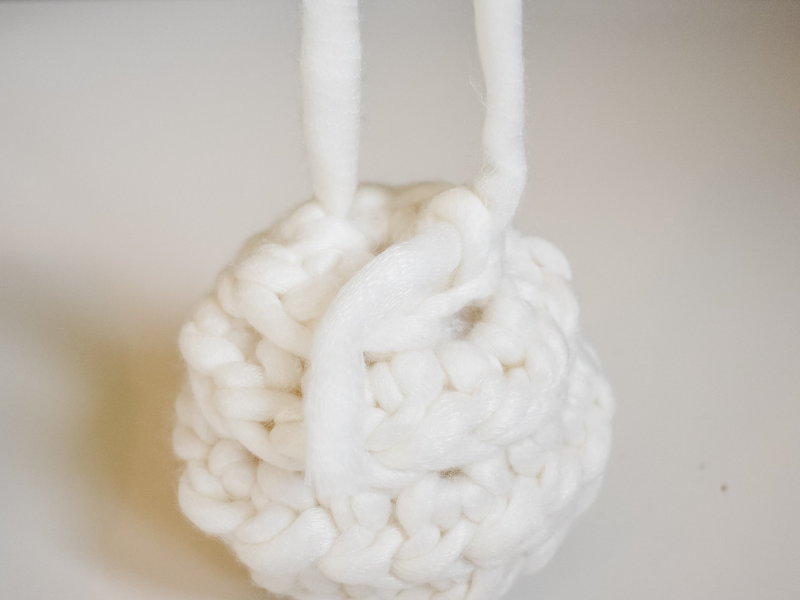 3. Tie that same end back to the beginning of the tail, close to the ornament.
4. Using your fingers, tuck the small tail under the ornament to hide it.
You're finished! I can feel your home getting a bit cozier with each crochet Christmas ornament you make. If you're looking for another holiday crochet pattern this Modern Crochet Christmas Wreath Pattern is for you.
Get the free PDF for the Crochet Christmas Ornament sent straight to your inbox. Just click the button below.