Make this quick baby cocoon crochet pattern for last minute baby gifts or to make a plush snuggle sack. You can make this crochet cocoon in 1 hour with no seams. It will be picture perfect from any angle.
No matter how organized I try to be I always need a last minute baby gift. I love to give handmade gifts. But they are time-consuming. This baby cocoon crochet pattern will be your go-to.
It only takes 1 hour to crochet.
Whenever I give this crochet cocoon as a baby gift there's lots of ooooh's and aaaah's. Everyone passes around the crocheted baby cocoon because "you have to feel how soft this is".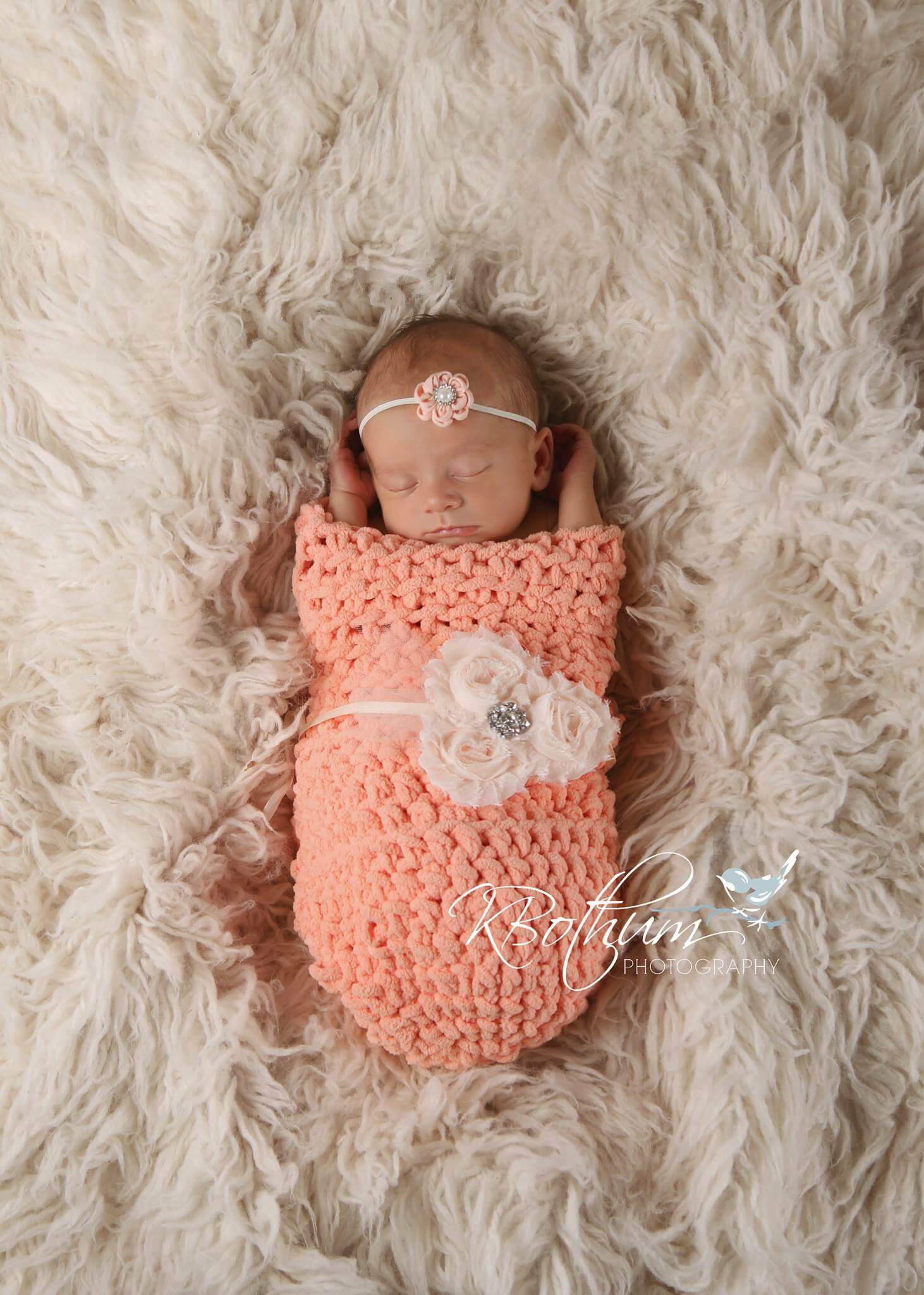 The baby cocoon is crocheted from the bottom up in a continuous spiral. That means that you won't be joining at the end of each round. Instead of joining with a slip stitch, you'll keep crocheting around and around until you have the finished size.
Add a stitch marker to the first stitch of the round to help you stay on track.
I know the lucky mom you gift this to will want to use the baby cocoon as a photo prop. It will be picture perfect from every angle. Crocheting in a continuous spiral ensures you won't have a pesky seam.
The Double Duty Sash
The flower sash is simple to make with a few flowers, embellishments, and a glue gun. For the sash, I used a satin ribbon and cut it long enough to be worn by momma in maternity photos.
If you are love this baby cocoon crochet pattern you'll love these pattern too.
More Sweet Everly B Baby Crochet Patterns
Add this baby cocoon crochet pattern to your Ravelry favorites here.
Pin it for later here.
What You Need To Make The Just Peachy Baby Cocoon
Crochet Abbreviations (US Terms)
hdc = half double crochet
st(s) = stitch(es)
sl st = slip stitch
Just Peachy Baby Cocoon Crochet Pattern
Make a magic circle
round 1: work 6 hdc in the magic circle, don't join (6 sts)
round 2: 2 hdc in each st around (12 sts)
round 3: [2hdc in next st, 1 hdc in next st] repeat around (18 sts)
round 4: [2hdc in next st, 1 hdc in each of the next 2 sts] repeat around (24 sts)
round 5: [2hdc in next st, 1 hdc in each of the next 3 sts] repeat around (30 sts)
rounds 6-20: 1 hdc in each st around (30 sts)
After you've finished round 20, sl st into the next st. Cut your yarn and sew in the ends.
I didn't permanently attach the sash. When you're ready to use it just tie in a bow around the baby cocoon.
All that's left to do is wrap up your handmade baby gift and wait for the oooh's and aaah's.