A toddler crochet vest pattern that is perfect for beginner crocheters, plus it has a boho fringe.
How many times do you see a cute top and think "I could make that"? You shop for yarn only to realize it would have been cheaper to buy the top. I know the quality of handmade and the feeling of accomplishment doesn't have a price, but it's still a little disheartening.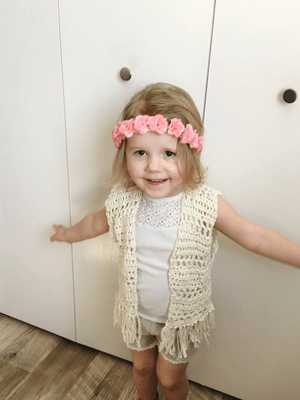 This all started by dreaming of the lake, warm sunshine, and a strawberry margarita. A swimsuit cover up was the plan. After crocheting a swatch, the stitch pattern was better suited for a vest. The airy boho feel is created by alternating half double crochets and chains. I love everything boho; crop tops, flower crowns, and anything with fringe.
What Most Crocheters Hate
Seaming pieces together and sewing in ends is the worst part of crocheting. I wanted to make the boho vest all in 1 piece. The only seams to sew together are the shoulders.
If you are a beginner to crochet, a vest is the perfect 1st garment to try. Clothing is intimidating. I waited years before I took the plunge. I didn't want to waste all that time and yarn only to have a lopsided cardigan taking up space in my closet. So I made one for my daughter. Here are a few more toddler crochet patterns. Surprisingly, it turned out. Don't let fear hold you back.
If little sister needs a matching boho chic vest you can get the Boho Baby Vest Pattern too.
Ready to try your first crochet toddler sweater pattern? The Bell Crop Sweater explains every detail to make your first a success.
What You Need To Know
Half Double Crochet
Half Double Crochet 2 Stitches Together (Half Double Crochet Decrease)
Single Crochet
Chain
How to hand stitch 2 pieces together (Whip Stitch or whichever stitch you prefer)
The fringe is made by hand tying knots
How to read a written crochet pattern
Materials For The Toddler Crochet Vest Pattern
If you can crochet a basic rectangle and sew the seams together you can make this vest. The toddler crochet vest pattern uses 1 skein of cotton yarn. You can get it on sale for $1.97. You'll have enough cash left over for that strawberry margarita.