Do you have crochet project overwhelm? Flip-flopping between projects can make it hard to keep track of all the important details. A crochet project planner will help you get organized once and for all. I go through all the types of crochet planners, digital, and paper, to help you find the planner best for you.
Do you have project overwhelm? Flip-flopping back and forth between craft projects, without finishing them? By the time I come back to my abandoned crochet projects I forget what hook I was using and all the little notes I was supposed to remember.
I'm guilty of too many works in progress and needed to come up with a plan. I needed a crochet project planner.
It's time to get organized, get those projects finished and not feel overwhelmed with the very thing that's supposed to be relaxing.
I've tried quite a few systems to get my projects organized. Today I'm sharing the system that works best for me and how you can create the best craft and crochet project planner for you.
Different Types Of Craft Planners
A Crochet Notebook
This was my first attempt at keeping all the notes I needed for my projects. There isn't much setup to a crochet notebook. I simply wrote down the pattern name, materials used, start date, and any notes I needed to remember. You could also include a section that keeps track of your yarn inventory.
Pros:
All of my pattern notes were in one place.
I could fit this in my purse or project bag for travel.
A notebook with pockets was handy to keep the printed patterns I was currently working with organized.
Cons:
I was always looking up the same reference material. What size hook is a J? What size hat to make for a 6-month-old?
There's no room for extra tools like scissors, stitch markers, or chocolate 😉
Who will find a crochet notebook useful?
Someone who likes to keep notes about their projects and yarn inventory and doesn't need reference materials.
A Crochet Project Binder
My next try was with a printable crochet planner that I put in a binder. I really liked this system and would have kept it if we didn't travel as much.
Pros:
I had a place for all the reference material I could dream of. Maybe too much 😉 Printable size charts were so easy to add to the binder.
I added a 3 ring pencil pouch for extra tools like a tape measure, stitch markers, and hooks.
I could add more pages wherever I needed.
Cons:
Too big for my project bag and didn't fit on my lap when we were traveling. Car crocheting anyone?
Who is a crochet project binder for?
Someone who likes open-ended organization and doesn't take projects with when they travel (or has a large project bag). You can get this printable crochet planner system that has all the reference material you'll need in one place. Looking back, I could have purchased a smaller binder and resized the reference materials.

Organization Apps For A Craft Planner
Evernote, ToDoist, Trello, Google Keep…I've tried them all. Evernote is the one I found most useful for a craft planner.
I setup digital notebooks: crochet notes, reference materials, patterns to try, and yarn inventory. I then put all these notebooks into one stack called Crochet.
I loved using this when I was at home on my laptop. It was easy to search for the note I was looking for.
Pros:
I always have my phone handy.
Easy to clip reference material and organize by folders or notebooks.
No paper waste.
Cons:
No place for the extra tools.
Typing out a lot of information on my phone took longer than writing.
In the summers we camp a lot and don't have great internet connections.
Who might like to use an organization app?
Someone who is tech-savvy and always has an internet connection.
The Crochet Project Planner That Worked For Me
A Crochet Project Journal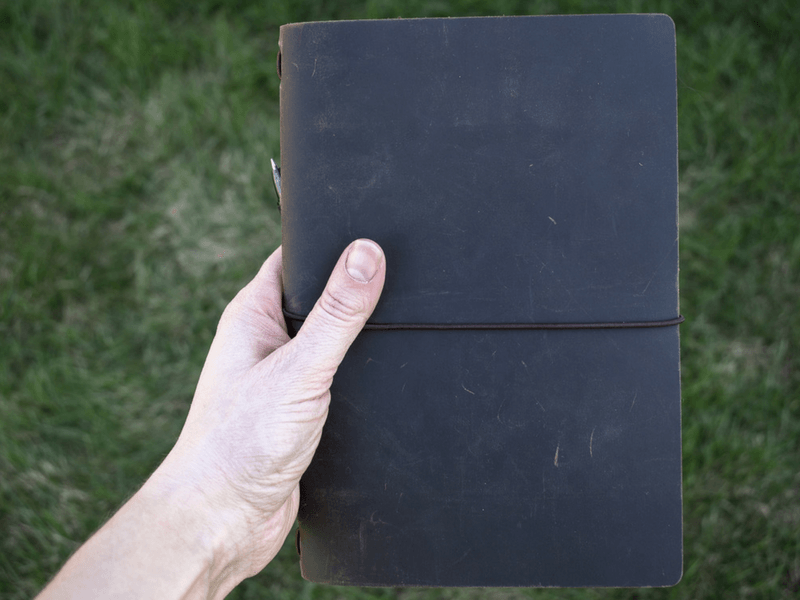 This idea came about because I love the leather travelers notebooks. Let's go through the pros and cons of a crochet project journal then I'll let you take a peek at how I set mine up.
Pros:
Perfect size for traveling and the leather cover is beautiful.
You can have multiple notebooks in one leather case. I have 1 for reference materials and yarn inventory and 1 for current projects.
A zipper pouch for all the extra tools.
Cons:
Takes more time to set up the reference notebook instead of simply printing like in the craft binder.
Let's talk about the cover. This leather is soft, durable, and oh so pretty. You can get the same one here. The A5 size is perfect for travel and fits in my project bag.
I chose 2 different kinds of notebooks. A dot grid notebook for the reference guide and lined notebooks for my pattern notes and project planner. The dot grid notebook I used came with the leather journal.
The reference guide is my favorite thing about this craft planner. Being able to find all the size charts and measurements in one place is so handy. There's plenty of room to add more charts and notes as I go.
Below is a list of pages I added to the crochet reference guide journal and links to find the handy charts if you want to make your own. You can use these charts with whatever craft planner system you choose. Print them off and add them to a crochet binder, save them to Evernote, or write them in your crochet project journal.
Crochet Project Planner Pages
Bonnet Size Guide from Pattern Paradise and Hat Size Guide from BHooked Crochet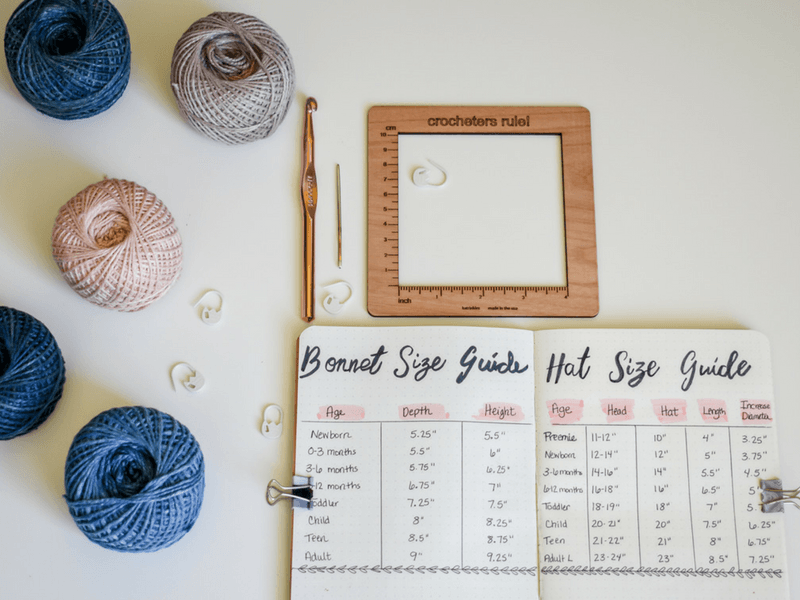 Body Measurements for babies, children, women, and men  from the Craft Yarn Council.
Body Measuring Standards from Craft Yarn Council
Make sure and leave a space to add your measurements and people you crochet for often. I can't count the number of times I've remeasured my daughter because I lost the paper that had her numbers. I usually crochet at night when she's sleeping. Having her measurements in my reference guide saves time and lets me keep going with my projects.
The hook size chart is so helpful when you're trying to find the right size hook for a pattern. I can't believe how many differnent sizes there are and how the letters can be used for multiple sizes, especially with the larger hook sizes. If you follow US and UK patterns put both charts side by side for easy comparison.
Tips For Crocheting A Flat Circle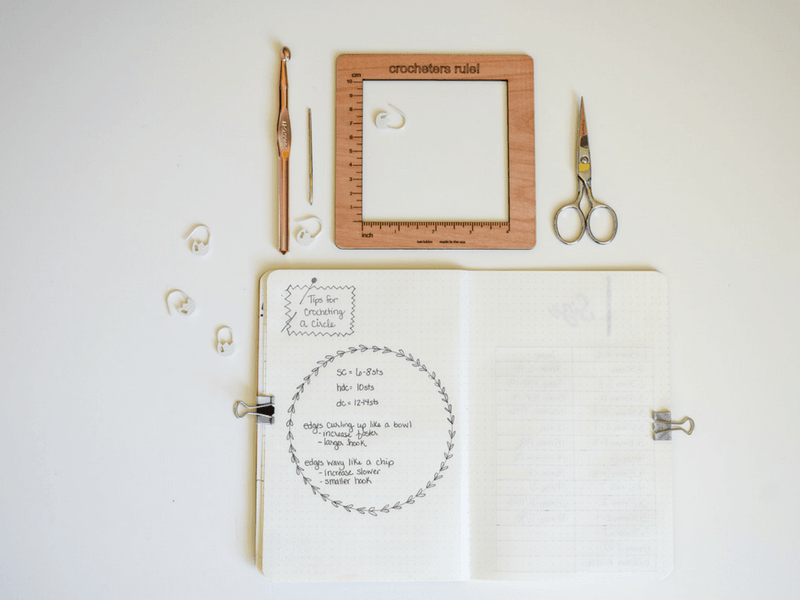 I have looked up "How many stitches do I need to start with when I crochet a circle?" more times than I care to admit. Now I don't have to keep googling it. I just flip to the reference section in my crochet journal and get to work.
Yarn Organization
One of my goals for this year was to use up my yarn stash BEFORE I bought new yarn. It's been tough and I haven't stuck with it for the whole year. I can't pass up a good yarn sale 😉 If you need more organization in your life crochet baskets are great for storing yarn. This tutorial will help you crochet a basket with sturdy sides.
Having a section in my reference guide that has my yarn inventory has helped me stay on track. I divided it into sections based on yarn weight. There's a column for the yarn amount, name and color, project I bought the yarn for, and a space to check it off when it's done.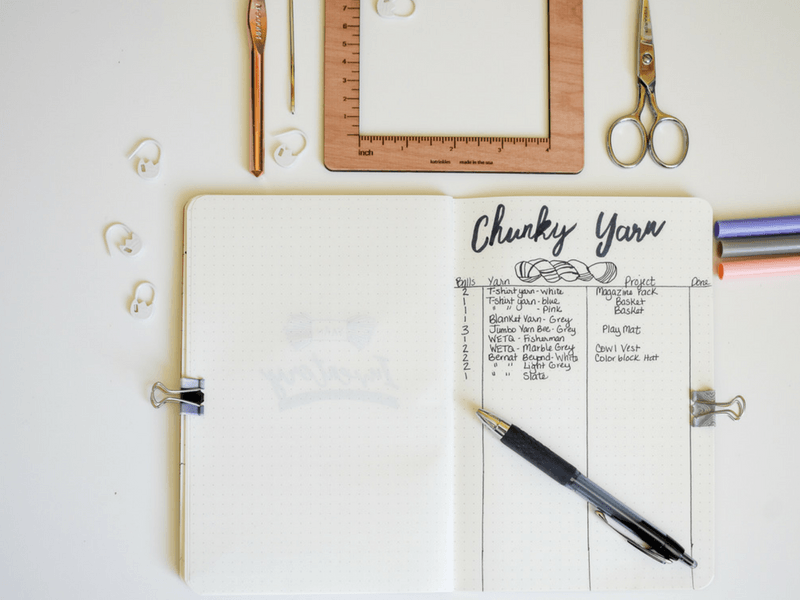 The project section is key to making sure you use the yarn. So many times I've bought yarn with a project in mind and by the time I get to use it I forget my plan. I also change my mind a lot. I use these erasable pens. They write nice and erase clearly.

The Crochet Project Planner
The 2nd notebook in my crochet project journal is for all my notes when designing patterns. Everything from the yarn and hook size, to all the notes about special stitches.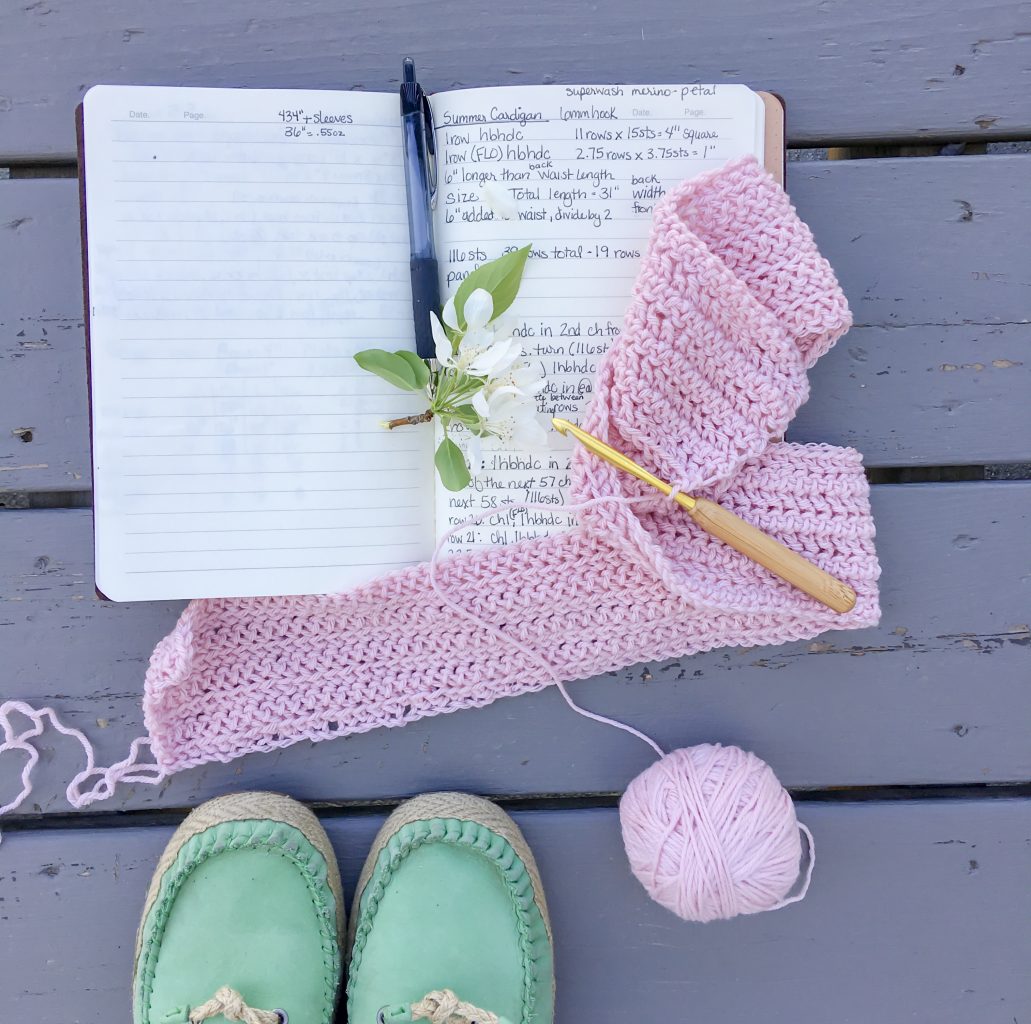 If you don't design patterns you can use this second notebook as your crochet project planner. To tie into the yarn stash busting you could set up a new project page each time you buy new yarn. That way you are committing that yarn to a project and it has a purpose.
How To Set Up A Crochet Project Planner.
If you look up bullet journal layouts you'll find SO much inspiration. You can set up the layout however you like. Here are the things I'd include for each craft project.
Project or Pattern Name
Yarn and Hook Used
Size Your Making
Your Gauge
Start and End Date
Notes
I love having the dates for each project. It's fun to look back and see how many things you've accomplished or if you need to take more time for yourself. If you're making a binder this free printable project planner from Malloo Knits will be perfect.
1 Place For All Your Little Tools
I added a clear zipper pouch to my crochet project journal. I was always looking for a pair of scissors, stitch markers, or a tapestry needle. This pouch is one handy place for all those gadgets. If you're traveling the country or snuggled into your spot watching Netflix they'll always be by your side.
What's In The Pouch
You can keep up to three notebooks in your traveler's journal, or 2 notebooks and the pouch for extra tools. This traveler's journal came with 2 elastics. If you want to add a third notebook you'll need this set of extra elastic bands.
The Bottom Line
There are a lot of different ways to get your crochet and craft projects organized. Pick the one that suits you and start using it today, or in 2 days when your Amazon order comes 🙂
Tag @sweeteverlyb with your project planner pictures. I'd love to see your creativity and how you stay organized!