A plush crochet mat is perfect for tummy time for babies. Follow this free crochet pattern to make your own crochet baby play mat in 1 hour. The pattern is easy and great for beginner crocheters. The chunky yarn and large hook make this a great DIY baby gift that doesn't look homemade.
I love hardwood floors, but it's not ideal for a new baby to play and kick around on.
I designed this crochet mat for my first nephew. He needed a soft place to have tummy time and I knew this plush chunky yarn would make the perfect play mat.
If you're looking to make a modern crochet play mat you're in the right place. The full free crochet pattern is below.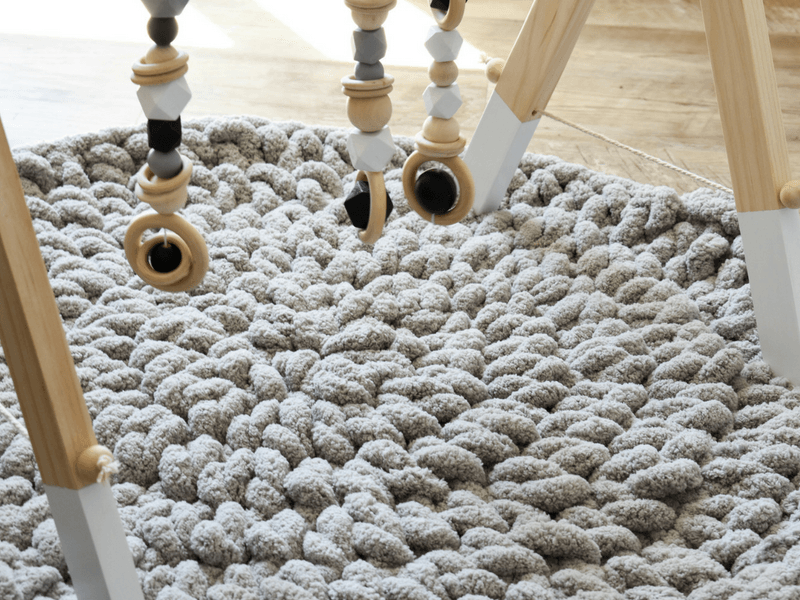 The play mat is much thicker than a blanket and is so soft and plush. A blanket made with this yarn would be so cozy. I'd compare the texture of this yarn to Bernat Blanket Yarn, but much thicker. Holding 5-6 strands of blanket yarn together would be a good substitute if you can't find this exact yarn.
Four balls of yarn will make a 30" round mat. You can easily make a larger crochet rug for older kids too. Just continue adding rounds, don't forget to increase, until you have the size you need.
I used this yarn from Hobby Lobby and have also tried the Mainstay Yarn from Walmart.
The chunky yarn and jumbo hook make for a quick project and a mini arm workout. You can make one crochet mat in about an hour. Perfect for last minute baby shower gifts.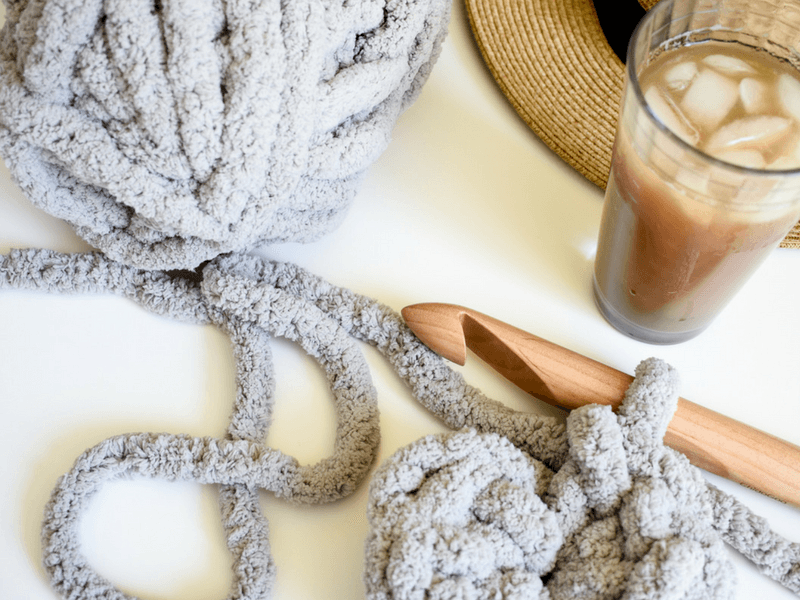 I love a quick crochet project. Here are a few other patterns that use the same giant hook.
What You Need To Crochet A Play Mat
Helpful Crochet Tips
The play mat is crocheted in a continuous spiral. You won't join at the end of each round or chain at the beginning of each round. Instead, continue crocheting around.
Use a stitch marker to keep track of the first stitch of each round. The stitches are large so a regular stitch marker might not fit. I used a contrasting color of yarn instead. Check out this  free guide to crocheting in the round.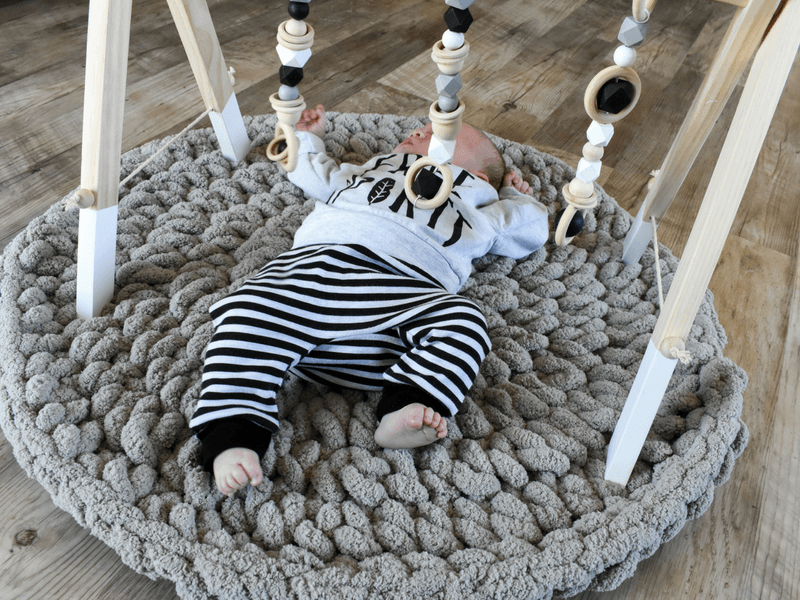 Abbreviations (US Crochet Terminology)
hdc = half double crochet
st(s) = stitch(es)
sl st = slip stitch
Crochet Baby Play Mat Pattern
Start with a magic circle.
Round 1: work 10 hdc in the circle. (remember to mark the first hdc) (10sts)
Round 2: 2 hdc in each st around. (20sts)
Round 3: [2 hdc in next st, 1 hdc in next st] repeat around. (30sts)
Round 4: [2 hdc in next st, 1 hdc in each of the next 2 sts] repeat around. (40sts)
Round 5: [2 hdc in next st, 1 hdc in each of the next 3 sts] repeat around. (50sts)
Round 6: [2 hdc in next st, 1 hdc in each of the next 4 sts] repeat around. (60sts)
Round 7: [2 hdc in next st, 1 hdc in each of the next 5 sts] repeat around. (70sts)
Sl st into the next st and fasten off. Cut the yarn. Use your fingers to weave in the ends.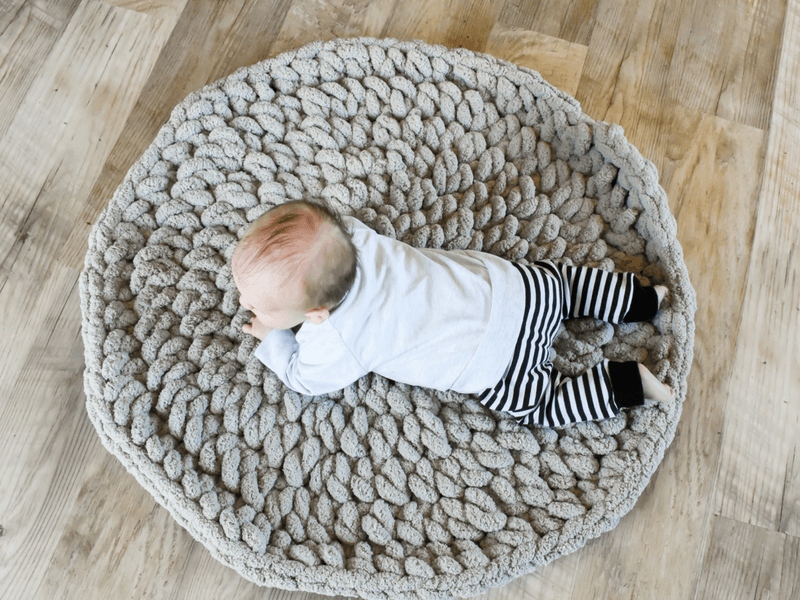 Now your little one has a plush crochet play mat to kick around on, as long as you don't keep it for yourself 😉
Another great addition to the nursery is this modern magazine rack crochet pattern. It's always nice to have a good book or your yarn close to the rocking chair for those late night feedings.
Try out these modern baby crochet patterns next.